ARTIST AND GEOMETRIC SHAPES AND LINES.

What if geometric shapes and lines are the secret tools of the Artist? Maybe they are? just saying.......
Fine Arts begin with geometric shapes and lines. Are these shapes and lines the secret tool of the Artist? I always ask myself this question when I'm sketching down an idea for Art.
Our lives in lines: Abstract Art by Miabo Enyadike
When we see Circles, Cylinders, Torus(doughnut), Spheres, Squares, Rectangles and Triangles our minds immediately associate them with mathematics or sciences in general, but this is not so for the artist.
Rectangles and Squares
: Abstract Art by Miabo Enyadike
The artist sees these, Shapes and lines as creative tools, used to create art pieces. This could be in the form of paintings, sculpting, drawing, designing and architecture.
Our lives in lines: Abstract Art by Miabo Enyadike
These geometric shapes, truly work with the artist and also shape the entire creative process of their artwork,
without any formal calculations or mathematical formulas. Allow me to further explain, the use of geometric shapes in art.
Squares and Circles: Abstract Art by Miabo Enyadike
For instance, sketching a human face, neck, and shoulder is simply to draw first, a sphere which represents the human face, then proceed to draw a cylinder which represents the neck.
Circles on fire: Abstract Art by Miabo Enyadike
Then draw straight lines, shooting out from both sides of the bottom of the cylinder as the shoulders, before getting down to the business of putting the entire facial expressions, light and shade in order.
It is that simple, the point I am making is simply the use of Shapes and lines, is a must when attempting any creative endeavor with a pen, pencil, chisel, brush, or even cutting paper for decoupage, lines are involved in the form of shapes.
Diamond: Abstract Art by Miabo Enyadike
In my abstract expression of the use of lines, I pay homage to Bauhaus Style, in its simplicity yet using lines and shapes, in a way that is both commanding, intriguing and fascinating.
Our lives in lines:Abstract Art by Miabo Enyadike
This Style is seen in design, art, architecture and lifestyle in general.
Universe: Abstract Art by Miabo Enyadike
My interpretation is a bit different, though not a complete departure from the Bauhaus Style, that is still so relevant today especially in design architecture.
Travel/Abstract Art by Miabo Enyadike
In this case, this is my opinion on how lines play a part in my abstract expression of geometric lines and shapes be my guest and...... Enjoy.
Shop Art Fashion Gifts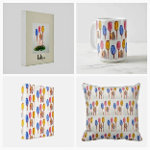 Art gifts
Miabo Enyadike
www.artmiabo.com